Pinebrook Condo Development holds Ribbon Cutting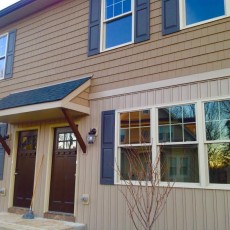 COOPERSBURG, PA  –  Cityline Construction of Allentown will hold a ribbon cutting ceremony Thursday, December 17, 5 to 7 p.m. to celebrate the completion of the Pinebrook condos at 600 South Main Street, Coopersburg, PA 18036.
Designed by Portner & Hetke Architects, the new condo community, located at the former Cooper Estate, features 23 condo units with two and three bedrooms priced at about $260,000.
"We feel we have built a community that is reflective of the location's rich history and natural surroundings," says Thomas Williams Jr., Real Estate Director, Cityline Construction.
Williams notes that a Cityline staff designer has implemented Craftsmen style doors, the rich texture of Cedar Impression siding, and architectural shingles to create a timeless feeling on the exterior.  The use of Sherwin Williams custom colors on the interior, with modern style cabinetry, embossed vinyl plank flooring and oil rubbed bronze finish hardware creates an open, and warm effect.
A lush pine tree lined section has been preserved for use by residents.
The 3.75 acre property was founded by T.S. Cooper, a cattle merchant whose grandfather lent his name to the borough. He built his estate on the site in the 1880s.  About a decade after Cooper died in 1928, the Sisters of the Sacred Heart acquired the property to operate a school and orphanage. The home shuttered in 1974, and Pinebrook, a religious school, then purchased the property, offering classes and housing students there until closing in 1992.
Cityline purchased the property in 1997 and later subdivided it into several parcels, the now-refurbished Cooper mansion, the caretaker's house, the carriage house, and the college buildings.
Razing of the former schools, vacant since 1992, carefully unfolded to make way for the new community.   Eight large stained glass windows from the chapel were removed and donated to the Coopersburg Historic Society for preservation.  The Allentown Diocese was the recipient of a large stone pediment rescued and preserved from the school entrance.
Cityline Construction of Allentown specializes in restoration, emergency and disaster services for businesses, institutions and home owners.  For more information about Cityline, visit www.citylineconstruction.com or call 610-820-5555. Follow Cityline Construction on Facebook, on Twitter and Instagram.
###