Lehigh County Judge Michael D'Amore acquires new courtroom.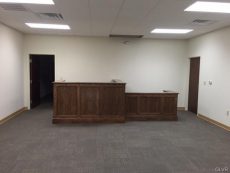 ALLENTOWN, PA – Cityline Construction of Allentown is putting the finishing touches on a $300,000 renovation at 1007 to 1009 Union Boulevard, Allentown.
The property, which served as the Boulevard Frame and Art Shop for more than 30 years, will be the new home of the Honorable Michael D'Amore, presiding Lehigh County District Court 31-1-05.  D'Amore plans to occoupy the offices by April 1, 2016, according to Thomas Williams Jr., Director Real Estate, Cityline Construction.  Cityline purchased the 4,200 square foot property in October 2015, says Williams.
Renovations to the property, owned by Cityline, comprised of a newly refurbished façade, wiring, HVAC and mechanicals, new roof and plumbing, and the customization of wood work cabinetry. The new district magistrate office will feature a handcrafted judge's bench. Cityline carpenters also hand-crafted bench seating in the waiting room by utilizing a LVL GLU-LAM oak support beam.
Additionally, regulation bullet proof riot glass has been installed in the reception area according to safety protocol, according to Williams.
Judge D'Amore and staff of about five are expected to move into their new location by April 1.
"The property was owned by the Landis family, who ran a viable business for many years," adds Williams.
Cityline Construction of Allentown specializes in restoration, emergency and disaster services for businesses, institutions and homeowners.  For more information about Cityline, visit www.citylineconstruction.com or call 610-820-5555. Follow Cityline Construction on Facebook, on Twitter and Instagram.