Fire Causes Water Pipe to Shower the Rest of the Condo
Fire and Water Solution
By: Jake L
12/2015: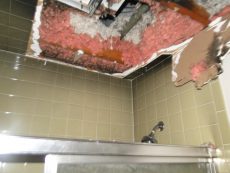 Home owners and renters need to remember that fires can happen in the most unsuspecting places, as this condo owner found out. The fire started in the ceiling fan directly above the shower. The fan ignited from excess dust build up in the motor, causing a minor fire in the second floor bathroom of this 3 story condominium.
The fire created a great deal of smoke and soot throughout and was quickly put out by the fire suppressant system in the building, however, not before it broke a water pipe. The water from the pipe caused significantly more damage to the property then the actual fire. The water ran down from the second floor penetrating multiple levels of flooring into the basement.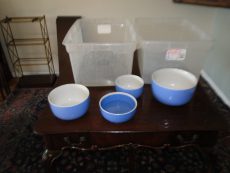 Cityline was hired to conduct the emergency services of the property and the restoration of the entire home. Our team of experts determined the extent of the damage and the proper course of action to take. It was apparent that the fire damage was kept to a minimum thanks to the fast acting suppressant system. However, it did destroy the ceiling and walls in the bathroom. The smoke damage from the fire was extensive, covering the entire second floor. It was no challenge for our trained deodorization and remediation crew, as they went through the apartment and carefully removed any and all smoke, odor and soot from all parts of the residence home.
While the fire and smoke damage localized to the second floor, the resulting burst water pipe and fire suppressant caused additional and more extensive damages, not to mention the damages already caused by the fire and smoke originally. The water damage from the pipe caused most of the flooring on all levels to require extensive replacement and restoration as did the ceilings and walls in those immediate areas. Most of the personal property on the second floor apartment was beyond repair or restoration due to the water damage sustained. Our office staff worked with the owners to recreate a list of the damaged contents in the condo.
The extent of the water damage in the kitchen on the first floor meant it would have to be stripped down to the studs. We had to tear apart most of the kitchen on the first floor; the owners took the opportunity to upgrade the kitchen a bit, adding in sleek wooden counter tops and changing the layout to create more counter space.
In the bathrooms, we restored the bathroom walls and ceilings, making sure to add in a new fan to deter future fires. The owners took the opportunity to upgrade the bathroom and have Cityline install a more modern bath and shower combination where the old burnt tub was; leaving the bathroom with a tasteful feel.