Home Waters Flowers on Wallpaper- Downtown Allentown, PA
Water Damage Restoration
By: Jake L
June 2015:
Older buildings often fall victim to aging, as this three-story Allentown home shows. Because of the old build and materials that were 30+ years old, the exterior of the home started to lose its reliability. The water penetrated the shell of the home and worked its way into the interior where it wreaked havoc. Water from the rain and snow caused significant damage to the third floor of the building and started to drip down to the second floor when Cityline was contacted.
The first step we took was to assess the damage to the home and determine the proper course of action. After taking several moisture readings the conclusion was reached that the third floor was in need of interior demolition and reconstruction in the affected areas. The second floor and the staircase were also heavily damaged and required complete reconstruction in all the damaged areas. We worked with the insurance to make this possible for the home owner.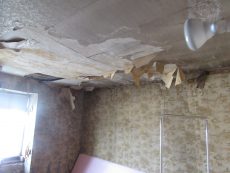 Repair work:
Our demolition crew came in and removed the old walls and ceilings quickly. With the home stripped down we replaced the damaged electrical lines and redid the insulation. This way both would be up to current code, not code from the 1700's. The new insulation in the ceilings and the walls will be a nice change from the draftiness that was there before. This, along with the new wiring and new windows, helped make to make the renovated home more energy efficient for the owner.
With the inter-workings of the home in place we installed the new drywalls and ceilings panels. In addition, we were able to rework the floorboards, as the vinyl covering protected them. We sanded and polished them off to give them that "make your neighbors jealous" look. With the walls painted white and the wood freshly polished, this really gave the rooms a classy feel to it. We replaced the light fixtures in each of the rooms to go with the motif and add to the jealousy of the neighbors.
We worked with the home owner to choose the new carpet for the second floor and the stairs. They chose a very nice and fluffy carpet that treated any barefoot walking on it like royalty. Again, we put in drywall and light fixtures as well. The overall result was a very welcoming bedroom.
When we finished with the construction we went through and did a final thorough cleaning of the home. Our team started to move the items back into the home right where they found them before. The home owner was very happy with the result.